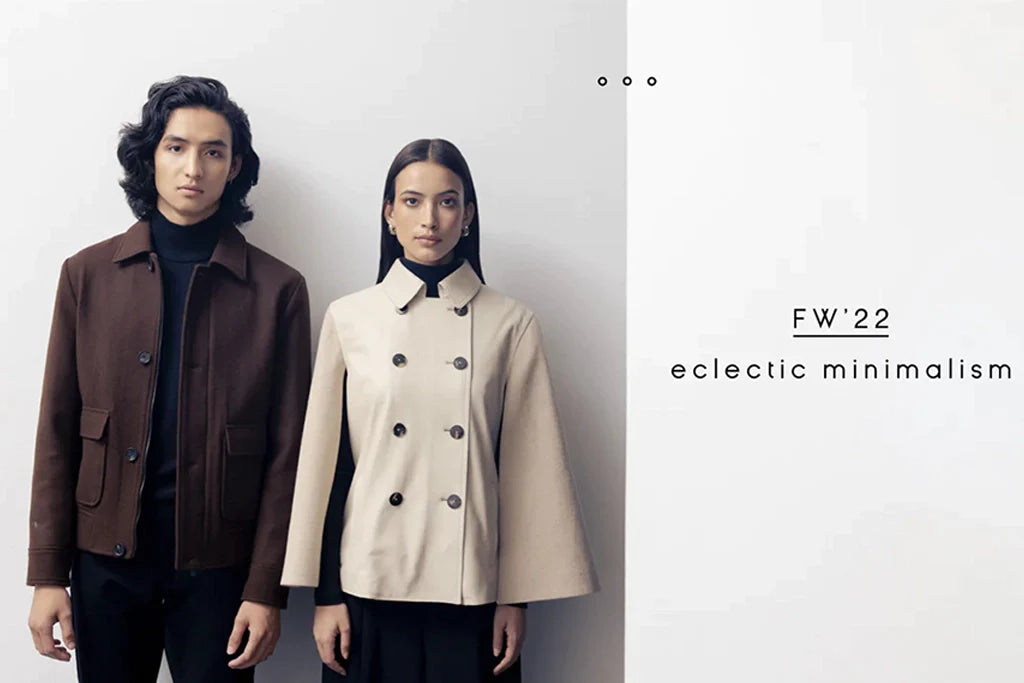 A cult classic, leather is synonymous to the season upon us and truly are a piece of wardrobe investment that will survive beyond trends. Owing to its durability and versatile design options available today, this singular piece of fashion garners a wide appeal across all generations. When picking a leather jacket, you are not only investing in a perennial closet item, but you're also buying into a piece of urban cultural history, infused with heritage and authenticity.
Choose from a myriad of options for your effortless style this season:
1) For those who dare to take on an element of pop featuring Esi & Yohan.

2) Nothing spells regal on the move like the trench coat in sumptuous buttery-feel leather. Featuring Sally.

3) The renaissance of the classic three button suit featuring Iker & Rita

4) Oversized, drop-shoulder moments in soft sumptuous leather featuring Heidi

5) The meticulously crafted leather down jacket to tackle northern expeditions & south dipping temperatures in style featuring Juan & Celeste

6) The field leather jacket for off-duty moments that don't compromise on style featuring Quin & Viola

7) Redefining capes as winter icons featuring Petra & Alanis

8) A celebratory shade in suede for the after-hours featuring Kofi

9) Minimal, clean-cut, sans-collar featuring Zola

10) Relinquish an aviator moment with the classic shearling collar leather jacket featuring Justin.

11) An elevated take on classic tailoring with the Fiona suit set

12) A case for the classic suede bomber featuring Shawn.

13) Enveloped in the luxury and warmth of the timeless shearling featuring Darla.

14) A lightweight leather button-down shacket keeps things stylish all year-round. Featuring Dwayne.

15) For an athletic moment with the hooded Daniella & Sullivan jackets

16) Mix-media numbers that define innovation and exploration of new possibilities featuring Ralph & Deron.

17) The timeless biker that requires no introduction. Featuring Nikolai.

18) Elevating basics with a sleeveless approach featuring Abeba, Neil & Agnello
Gone are the yesteryear days when leather jackets came with embellishments, embroidery and excessive hardware. Without these elements, a leather jacket still has a lot to offer. The staple feature of the design carries elegant lines and the hones the ability to make any outfit look instantly more sophisticated. The crucial thing to remember while wearing one is to keep the pieces paired with it equally unfussy. A well-fitted leather jacket with a clean, minimalist design approach can quickly turn into a personal piece de resistance. Hence, it is important to find a piece that flatters your frame. By rule of thumb, a short leather jacket must sit at the waist and taper closely to your body while offering enough room for layering. Leather jackets can be worn with an elegant ensemble or with everyday clothing with silhouettes designed keeping in mind a perfect blend of functionality and style for universal appeal. .
Perona's leather jackets are designed for a timeless appeal and can work with your existing wardrobe pieces effortlessly. These meticulously crafted options span across a wide range of styles such as classic bombers, bikers, down-fills, blazers, athleisure-inspired hooded jackets, field jackets and more. In our constant exploration across unique design elements and bringing forth textural diversity in our collections, we find union of leather with other materials such as wool blends, ponte knits and technical fabrics that offer a mix-media range for further indulgence.
Perona's leather jackets are designed for the wearer to experience quality, fit and style that remain unmatched. Leathers are sustainably sourced from LWG Gold certified tanneries and are worked upon with meticulous craftsmanship to offer a flattering fit. Our signature modern-minimal designs come alive in modern, chic hues selected from the opposing ends of the colour wheel. Each design is inscribed with the signature handwriting of Perona while remaining relevant to today. Each piece has a strong and symbolic shape, while being versatile in styling both as a lone icon with a strong personal presence or styled together with other pieces. Designed to be transformational, having day-to-night functionality with a simple change of shoes, accessories, or layering.
At the end of the day, leather jackets are designed to help you feel that you stand a little taller, speak with more conviction and seem more alluring. This singular fashion element is designed to elevate button downs to crewneck basics, trousers to denims, with almost effortless ease. Explore options that resonate with your elevated choices this winter. Discover yours to see it age beautifully with time.
Discover the FW'22 collection- 'Eclectic Minimalism' in stores & online on https://www.perona.com